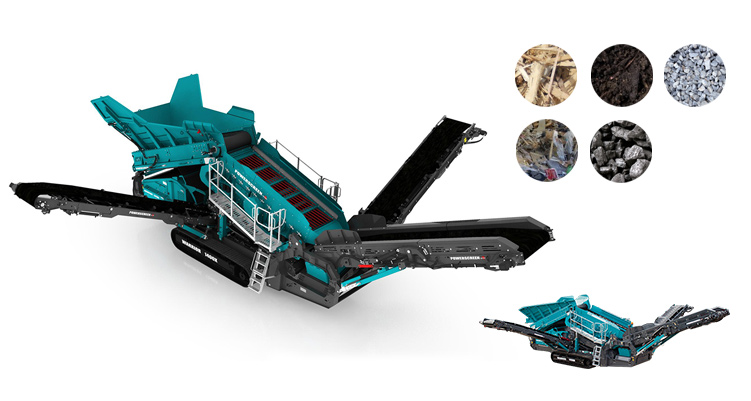 Powerscreen Warrior 1400x
The Powerscreen® Warrior 1400X is a flexible screening machine, aimed at small to medium sized operators who require a high performing, heavy duty, versatile machine that remains easy to transport. It offers improved performance, lower operating costs, and easier serviceability while building on the reliable foundation of our class-leading Warrior 1400 scalper. Its highly aggressive screen can accept bofor bars, finger screens, woven mesh and punch plates.
User benefits include jack up screen facilities to aid media access and hydraulic screen angle adjustment.
Main Advantages
High capacity up to 500 tph / 551 stph (depending on mesh sizes & material type)
Suitable for scalping or stockpiling as a 3-Way Split or 2-Way Split machine
2WS kit supplied with machine as standard
Maximum feed size 500mm. Maximum allowable feed size may vary depending on material.
Heavy duty inclined hopper & belt feeder featuring impact bars & impact rollers
Fixed hopper sides & twin drive belt feeder
Jack up screen facility for access to screen media & collection conveyor
Collection conveyor raise feature for conveyor & diesel tank access
Heavy-duty aggressive 2-bearing screenbox with 10mm stroke (optional 12mm stroke)
Galvanised screen walkways and access ladders as standard
Maximum mobility with heavy duty, low ground pressure crawler tracks.
Quick set up time typically under 10 minutes.
Hydraulically folding conveyors for transport
Two speed heavy duty crawler tracks,

| Make | Model | Input | Output |
| --- | --- | --- | --- |
| Powerscreen | Warrior 1400x | Up to 400mm | Up to 500tph |
Material
Soil, Wood, Aggregates, Demo material, coal